Study Abroad Program Overview

This University of California program is run through the Environmental Science, Policy and Management Department (ESPM) at UC Berkeley and is based at the UC Gump South Pacific Research Station, located in Mo'orea, French Polynesia. Gump Station is host to renowned scientists from around the world and has been providing exceptional educational opportunities to UC students for 30 years. The University of California's Gump Station houses NSF's Mo'orea Coral Reef Long-Term Ecological Research (LTER) site and the Biocode Project making the island and its reefs among the best-studied in the world, while creating a dynamic interaction for students with international researchers, including those at the nearby French research station CNRS-EPHE CRIOBE.
Making a just transition to environmental sustainability is perhaps humanity's greatest challenge in the 21st century. Islands serve as model systems for exploring issues affecting this transition around the world. Mo'orea in French Polynesia is perhaps the best-studied small island in the world and the Island Sustainability Program offers you a chance to learn how this complex tropical system is navigating the Anthropocene.
The Island Sustainability program provides an exceptional learning experience and advanced training for undergraduates like yourself. It draws on the diverse interdisciplinary research carried out at the Gump Station by leading researchers from around the world, blended with the traditional wisdom of the Polynesian people. The incorporation of the cultural and traditional aspects of the program is made possible through the unique partnership between UC Berkeley and the Tahitian community via the Atitia Center.
This partnership is with a Tahitian community-based organization, the Association Te Pu 'Atiti'a, which is made up of local educators and traditional experts. The Atitia Center develops common educational and research programs focused on marine and terrestrial biodiversity, traditional knowledge, culture, and the relationship between human societies and natural ecosystems. Students will also be exposed to a variety of local and international NGOs working in the region and will benefit from the blend of European, American and Polynesian perspectives affecting all aspects of life and sustainability on the beautiful, tropical islands of French Polynesia.
Mo'orea is an island located 11 miles north of Tahiti. It is a rural island with several villages and towns. The island and its nearshore marine ecosystem are one of the best-studied systems in the world. Mo'orea is recognized as an unusually resilient coral reef; current studies are examining the factors that underpin this resilience.
Island Sustainability French Polynesia – Program Outline
5 courses over intensive 10-week field program + 1 week Spring Break + Capstone project online (3 weeks)
Credits: 15 semester units
Students will begin with several weeks in the field on Tetiaroa atoll and Temae beach, then be based on Mo'orea at Gump Station
Application for the Spring 2024 Program is now open!
Go to 'Berkeley Study Abroad' to apply
Image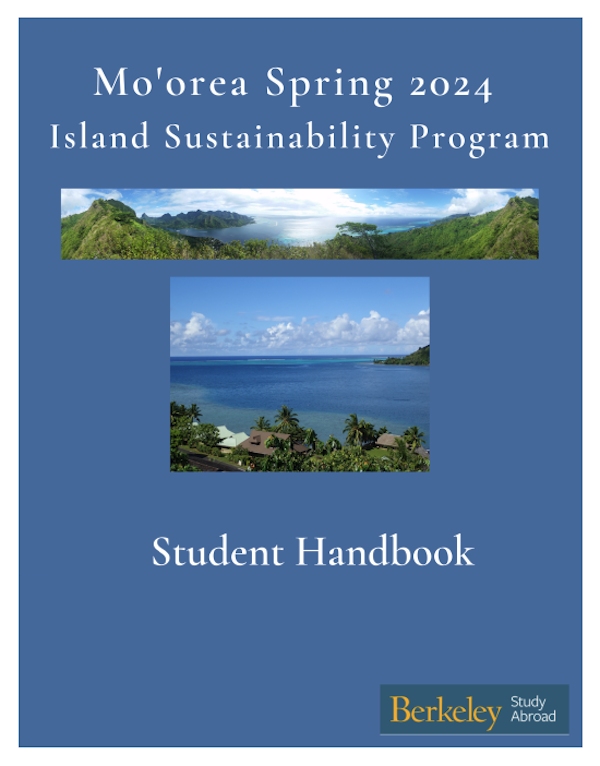 Get all the details in the Mo'orea Spring 2024 Student Handbook