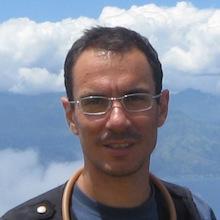 University of California Berkeley
Menelaos Stavrinides received a BS and MS in Crop Protection from the Aristotle University of Thessaloniki in Greece. He continued his studies with a Master's in Biological Control of pests at Imperial College in London, UK. After finishing his MSc, Menelaos worked as a research entomologist for the Aristotle University of Thessaloniki, Greece, and the Agricultural Research Institute of Cyprus. In 2004, he won a scholarship from the Cypriot Fulbright Commission for graduate studies in the US. He received his MS and PhD in Environmental Science, Policy, and Management from the University of California at Berkeley in 2009. His dissertation focused on the management of spider mites in California vineyards. 
Menelaos is currently working on the Moorea Biocode Project as part of his postdoctoral research. He collects mites and ticks from Moorea's diverse ecosystems and he is particularly interested in the diversity and habitat preference of Phytoseiid mites, an important group of predatory mites that has never been studied before on the island.