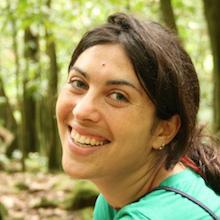 University of California Berkeley
Eleonora holds a BA in Political Science and an MA in Development Studies, both obtained at the University of Bologna, Italy. To date, Eleonora has worked for different international organisations, NGOs and private consultancy firms on environment and development. Among other things, she has also worked for UNDP on climate change and development, for the OECD's Environment Committee and for the European Commission on aid delivery modalities. 
She has worked at the Gump Station as a research officer on carbon budget assessments ("Bilan Carbone") and on climate change on a programme supported by the French Polynesian Ministry of Environment. The aim of this project was to: produce a baseline study on Climate Change for French Polynesia,  create and animate a local climate change network and raise awareness on climate change mitigation measures among the local population. Eleonora currently works in French Polynesia for BEST, a conservation project managed by IUCN (last update February 2015).